Indian Mushaira in DSF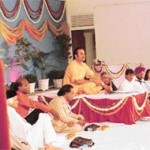 Renowned poets from across India are expected to participate in the 7th Kavi Sammelan (Poets Gathering) and Mushaira gathering as part of Indian Republic Day celebrations. The much anticipated event in Indian literary circles will be held on Thursday, 29th January, 2009, at His Highness Sheikh Rashid Auditorium in the Indian High School. His Excellency Talmiz Ahmad, Ambassador of India in U.A.E, will be the chief guest for the evening
A highlight of cultural events during DSF, Kavi Sammelan and Mushaira has gone from a gathering of literary geniuses to a popular and enjoyable event of a cherished tradition in the Subcontinent.
The following poets are expected to participate in the event: Gulzar Dehlvi, Dr. Nawaz Dewbandi, Charan Singh Basher, Dr. Kalim Qaiser, Dr. Mehdi Jafri, Naeem Akhtar, Sarita Sharma, Ram Prakash Baikhud, Afzal Manglori, Shola Tandvi, Nikhat Amrohvi, Shadab Baidharak, Dr. Kumar Vishvas, Javeed Arshi, Fiza Azmi, and Professor Inayet Alikhan. The event will be conducted by Dr.Mehdi Jafri.
While entry to the gathering is restricted through invitation, the televised event will be viewed across 85 countries.  More information can be had from Syed Salahuddin on 050-6506811.